The Launch Tennis Program is a combination of Green Dot and Yellow Ball, which utilizes two coaches to accommodate entry-level teenagers and Pre-Academy level players, as well as Orange Ball graduates.
The program is designed for players ages 10–15 years old. Launch Tennis includes competitive match play and live ball play as well, keeping a focus on fun and fitness. Tennis these players to the next level is our goal.
For the entry-level 10-15-year-old child looking to improve their tennis skills.
Our classes meet from Monday to Thursday, 4:30 - 6:00 PM and Saturdays from 9:30 - 11:00 AM.
Launch/Green Ball Program Coach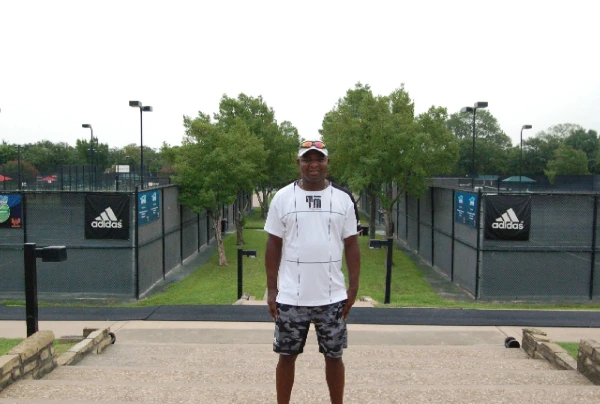 Sydney Bwalya
Tennis Pro
Sydney came to us from McPherson College, where he was the head men's and women's tennis coach for two years. Prior to assuming that position, he spent four successful seasons at Barton County Community College, where he coached four NJCAA Regional VI championship teams. His men's teams won in 2005, 2006, and 2008, while the women took the title in 2008. Following the 2008 season, he was inducted into the Barton Sports Hall of Fame. In 2009, both of his teams finished runner-up in the 2009 Region VI championships. Sydney returned to his alma mater and served as a graduate assistant at Washburn University from 2004-2005. Sydney began his career as tennis director for the Joel Ross Summer Tennis Camp in Kent, Conn. As a player, Sydney represented his native Zambia in the Davis Cup from 1997 to 2001, captaining the squad in the 1998 and 2001 tournaments. Prior to being named to the 1997 Davis Cup team, he won the Zambia Closed Championships. Sydney was named to the ITA/NJCAA All-American team in 2000 and 2001. After finishing two years in junior college, Sydney attended Washburn University, where he played in the No. 1 position for two years. Sydney then went on to receive his Bachelor's degree in General Studies from Fort Hayes State University in Hays, Kansas.
Launch/Green Ball Program in Action
Get Your Child Started Today